Intro
When you love something, as we all love skincare, we know it's not about the quantity, it's about the quality. For this, we always find ways to improve efficacy, to turn it into a self-care momentum, and to make it both swift and enjoyable. Following this theme, I selected the best skincare tools for 2023.
We all crave more from our moments of relaxation, and yet, skincare can sometimes seem tedious, especially when faced with the challenge of selecting the right products for our skin type. In such instances, the goal is to fully embrace this time of day, to indulge in a truly enjoyable experience, and possibly achieve a glowing and relaxed complexion along the way.
And what could be more perfect than welcoming skincare tools that are not only simple but also remarkably efficient, starting with the Kansa wand? Now, where do we begin from here?
Therefore, in today's article, I present to you my selection of the finest skincare tools for 2023.
Reusable Silicone Patches
Quartz Spatula
Face Roller Stone
Gua Sha
Dual-Ended Face Mask Applicator
Silicone Scrubbers
Ayurvedic Kansa Wand
Reusable Silicone Patches
If eye creams capture your senses, get ready for an even more powerful and science-driven wonder on the horizon.
Reusable and cost-effective, these silicone patches excel at delivering unparalleled hydration while enhancing your skin's suppleness. Crafted from medical-grade silicone, reusable patches boast an impressive track record of nurturing your skin from the inside out.
Simply put, silicone patches can temporarily reduce the visibility of wrinkles after applying them to cleansed skin, which can create a fresh, dewy look. Feel free to wear them whenever you're at home for a minimum of 2 hours.
The market is flooded with reusable silicone patches, from a variety of brands, including some infused with skincare actives that will improve both the moisture and the appearance of your skin, such as FOREVER EYE MASK – DIEUX SKIN and WANDER BEAUTY – BAGGAGE CLAIM EYE MASK. A good example of silicone patches are SIO BEAUTY's products, or any other medical grade silicone patch you can find online or in a local store.
Quartz Spatula
Meet a small and surprisingly powerful skincare tool! This slick quartz spatula is a lifesaver for jar applications, especially when it comes to lip masks. It serves as a guardian against lurking bacteria, providing a hygienic experience without causing a mess.
Face Roller Stone
Wonderful in their diversity, from clear quartz to rose quartz, opal, jade, and even obsidian – a dark, glassy volcanic rock – each holds unique potential for enhancing our skin.
A roller stone facial massage may improve your mood, reduce stress and anxiety, and temporarily enhance the look of your face, neck and chest. Using a face roller improves blood flow, lymphatic drainage, decreases inflammation and puffiness, thus helping to brighten the appearance of your skin.
You can use the face roller in the final step of your skin care routine and over a sheet mask to allow ingredients in the mask to penetrate more deeply. Gently massaging your face with a roller stone is not only relaxing but also has the potential to provide a more sculpted, toned and lifted look. With a routine of using the face roller two or three times weekly, each session lasting about five minutes, you might notice a positive transformation of your face appearance.
Gua Sha
While gua sha may no longer be considered a trend for some of our dear readers, it's certainly worth highlighting in this article. Gua sha offers a similar application to a face roller: you start by applying serum, oil, or moisturizer, then proceed with upward and outward motions, as depicted in the image below. It's undeniably a versatile tool, extending its benefits beyond just the face – you can also utilize it on the neck, chest, shoulders, hands, and legs!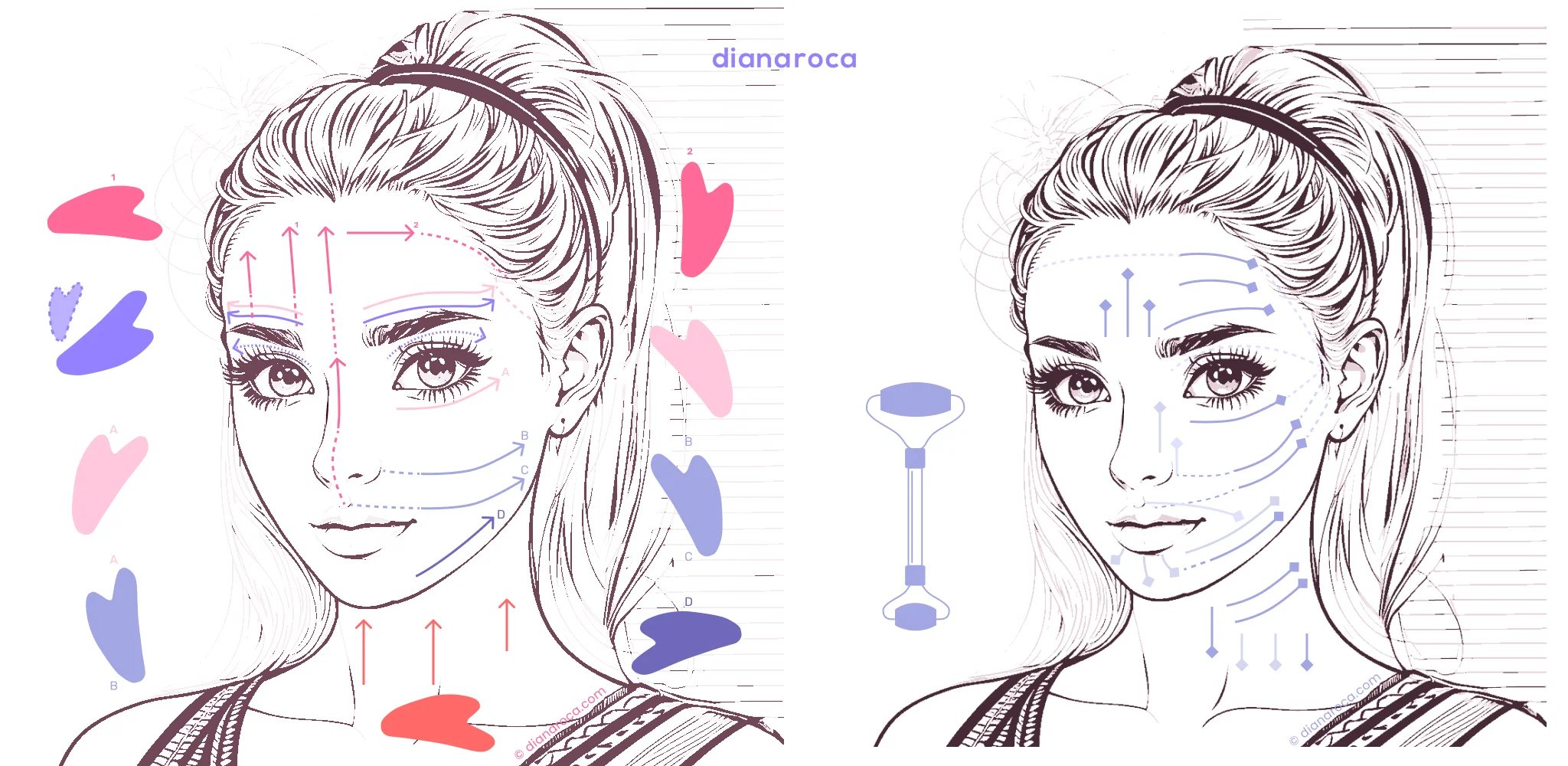 A conventional skincare tool like gua sha, relieves muscle tension, stimulates circulation, reduces inflammation and offers a temporary sculped and firmer face. Some studies have demonstrated a positive effect on migraine pain and stagnant energy, meaning gua sha is a relaxing treatment massage moment that should be fulfilled each day, for our wellbeing.
Dual-Ended Face Mask Applicator
As the name suggests, this applicator proves invaluable for homemade masks or any other clay mask. Make it easy to apply your favorite clay mask using this dual-ended silicone tool, which ensures both hygiene and precise application.
Silicone Scrubbers
Despite the abundance of automatic scrubbers, such as Foreo, designed primarily for a thorough cleansing method and exfoliation over the face and neck, a simpler product is generating buzz on platforms like Pinterest: manual silicone scrubbers.
The versatility and gentleness of silicone make it an excellent alternative to loofahs, sponges, and brushes. Because of this, it makes a great choice for your bathing or showering routine. It's important to clean the scrubber after every use, whether before or after. Use it with any foaming or oil-based shower gel.
Ayurvedic Kansa Wand
Featured in this list is a timeless skin tool full in rich history: The Kansa wand. Made from teak wood, a blend of copper and tin known as Kansa metal, its roots trace back to ancient times. Originally harnessed for its skin-nourishing qualities by Ayurvedic practitioners, the Kansa wand now finds its place in our day's skincare routines.
So, even in our modern times, it remains a 'magical' and simple touch of beauty, celebrated for the belief that 'Using a Kansa wand regularly will help tone your facial muscles and improve skin complexion.'
The Kansa wand can also serve as a foot, neck, arms and legs massager, providing a range of advantages by promoting blood and lymph circulation. Furthermore, it effectively draws away heat and harmful toxins from the body.
Beyond its benefits for your body, the Kansa wand can also work wonders for your face. Regular facial massages with the Kansa wand alone can help address a variety of skin concerns, including inflammation, acne, wrinkles, premature aging, and sensitivity.
Kansa metal possesses alkaline properties that play a role in maintaining the skin's pH balance. Given that numerous skin concerns arise from pH imbalances, incorporating a kansa wand can help reduce the skin's acidic content and potently address these issues.
Using the kansa wand is simple – all you need is your favorite face serum or essence. The product you choose should match your skin type and address your specific concerns.
Conclusion
To wrap it up, picture self-care as your personal masterpiece, with your skin as the canvas. Let these tools enhance not only your skin, but also your sense of self as part of your self-care journey. Take delight in every moment, nurture your beauty, and discover ways to become your best self.
image source: art.dianaroca.com and edited unsplash.com image