Intro
This skincare trend is already well known, and it's probably no surprise that you have come across online articles about how to make and apply a 'slugging' mask.
What is slugging?
The term slugging was first used on Reddit a few years ago and then by Charlotte Palermino, the founder of Dieux, through her TikTok and Instagram accounts, #slugging.
In an Instagram post, I outlined exactly what slugging is. I leave the image in this post too.
It refers to the method of applying petroleum jelly masks.
I'm sure that most of you know the brand Vaseline. In beauty shops, supermarkets, and drugstores, Vaseline can be found in abundance, so you likely know about its properties, as well as its disadvantages.
Vaseline is a thick, sticky gel paste, which is lubricating, soothing, and emollient to the skin. It is an approved cosmetic ingredient obtained from petroleum distillation (INCI – petrolatum, a mixture of mineral oils and wax).
PRO – Slugging
Seals the skin barrier
It helps prevent water loss
Solidifies the moisture barrier
CONS – Slugging
Traps dead skin
Increases surface oil (from the lipid layer)
It can be messy for a sleep mask
It can cause acne or pimples because it affects the activity of the sebaceous glands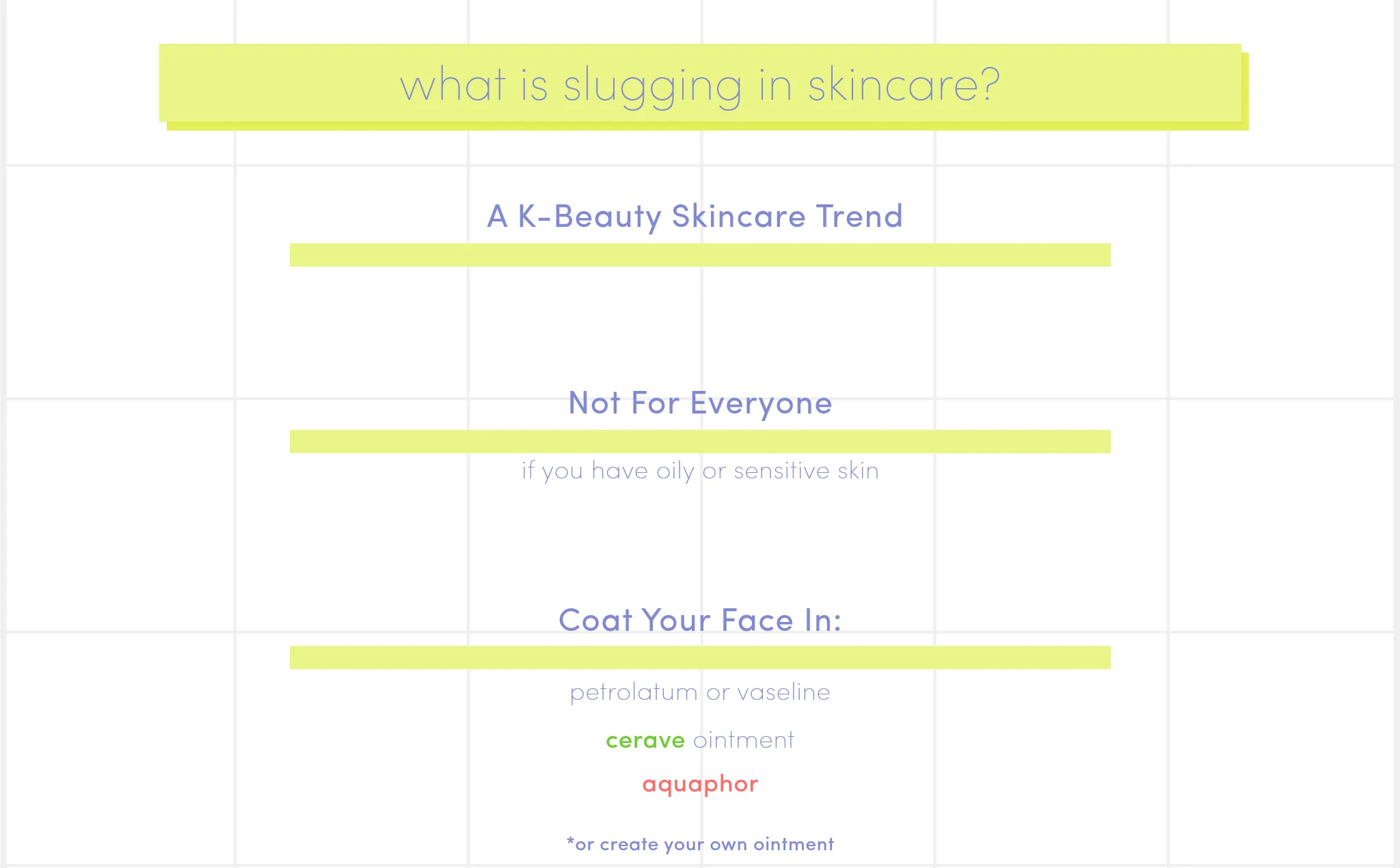 How do you apply a slugging mask?
According to Palermino's recommendations, vaseline is applied to capture moisture in the skin using the "moisture sandwich" method [1].
But due to the occlusive nature of petroleum jelly, experts warn us against applying certain active ingredients like retinoids, exfoliants, or topical vitamin C before slugging. This is because you can damage your skin. "You can take a fairly mild ingredient and turn it into something very powerful by sealing it with Vaseline." [2]
Note: Apply before Vaseline (in a thin layer) a serum with mild ingredients such as hyaluronic acid, allantoin, or amino acids and/or a moisturizing cream with beta-glucan, aloe vera, glycerin, etc.
How is my experience with slugging?
Even though it may seem slightly unfamiliar, in the opinion of some cultures or individuals, this type of protective and moisturizing method is already a tradition.
My experiments with "slugging" masks led me to use customized recipes designed exclusively for my skin type, using ingredients like mango butter, shea butter, lanolin, waxes, and various vegetable oils. In case of rough or flaky skin, Vaseline can complete this recipe, but I recommend a dermatologist's opinion before regular use.
This skincare trend is dermatologically approved?
According to Joshua Zeichner, a dermatologist and associate professor of dermatology at Mount Sinai Hospital in New York, petroleum jelly is an occlusive ingredient: "It forms a seal over the stratum corneum (the outer layer of the skin or skin barrier) to protect the skin from the environment, preventing at the same time water losses." [3]
From another dermatology practice, Dr. Clay recommends Vaseline "at least 10 times a day"—for dry skin, wound care, surgical aftercare, and "especially for my eczema patients who have a compromised skin barrier and tend to dry and scaly." Signs of a compromised skin barrier may include redness, dryness, flaking, burning, or stinging. [4]
Conclusion
Slugging is a skincare trend that involves covering your face with vaseline or petroleum. This is to prevent transepidermal water loss and maintain skin moisture. Those with dry, flaky, and dehydrated skin types will benefit the most from it.
featured image source: unsplash.com